Overview
Innovestor, a venture capital and financial services company geared toward startups in the Nordic space, has been making waves in Northern Europe. Entering its fifth year of existence, the Helsinki-based firm has taken advantage of an evolving European start-up market. As Innovestor's Chief Investment Officers has noted,
the situation has changed in recent years, and the possibilities for private investors to invest in startups have increased. Now the high returns from future success stories and unicorns are accessible to everyone.
Innovestor has the largest private portfolio of venture backed companies in Finland, and prides itself on the diversity and depth of its portfolio which spans the breadth of modern technologies present in the startup scene. Their syndication and active network make Innovestor a major player in their home context in Finland as well as overseas. Innovestor dedicates its tech portfolio to 11 different segments: technology, health, life science, enterprise software, biotech, consumer, clean tech, software, food tech, and robotics.
Challenges
Co-Investment Platform
Innovestor's use of Salesforce was both well intentioned and logical from a planning perspective, but after execution, some problems became evident with the strategy. Salesforce integrated poorly with Innovestor's primary online presence, with the ultimate outcome that users' experiences were split between two platforms, also requiring multiple user logins to comply with Finnish law. The arrangement also incurred extra expense for Innovestor, who had to pay for all user licenses, including inactive ones.
Marketing
After having created a new, updated brand guide and a retooled logo, and design, Innovestor was faced with integrating their new branding into their online presence.
Sales Automation
A key part of Innovestor's model is to generate, collect, and curate leads, continuously updating relevant information and passing it up the chain. These data were generated primarily by lead generation forms.
Solutions
We designed Innovestor's new application from scratch. We made Innovestor's new co-investment platform more accessible and streamlined than before by using Netlify as a host on a sub-domain of Innovestor's primary webpage. We chose an angular single page application, functioning as a static page, to be distributed by content delivery networks, to maximize accessibility and eliminate the previously bifurcated user experience. We also ensured that the sub-domain's new design is consistent with the main website in order to streamline user experience and unify the consumer journey.
To address the discontinuity created by using Salesforce externally, we eliminated the community and its registration, using Social Security numbers as identifiers within TUPAS. As a result, customer experiences are simple because it is no longer necessary to log in to access content related to startups with potential for investment.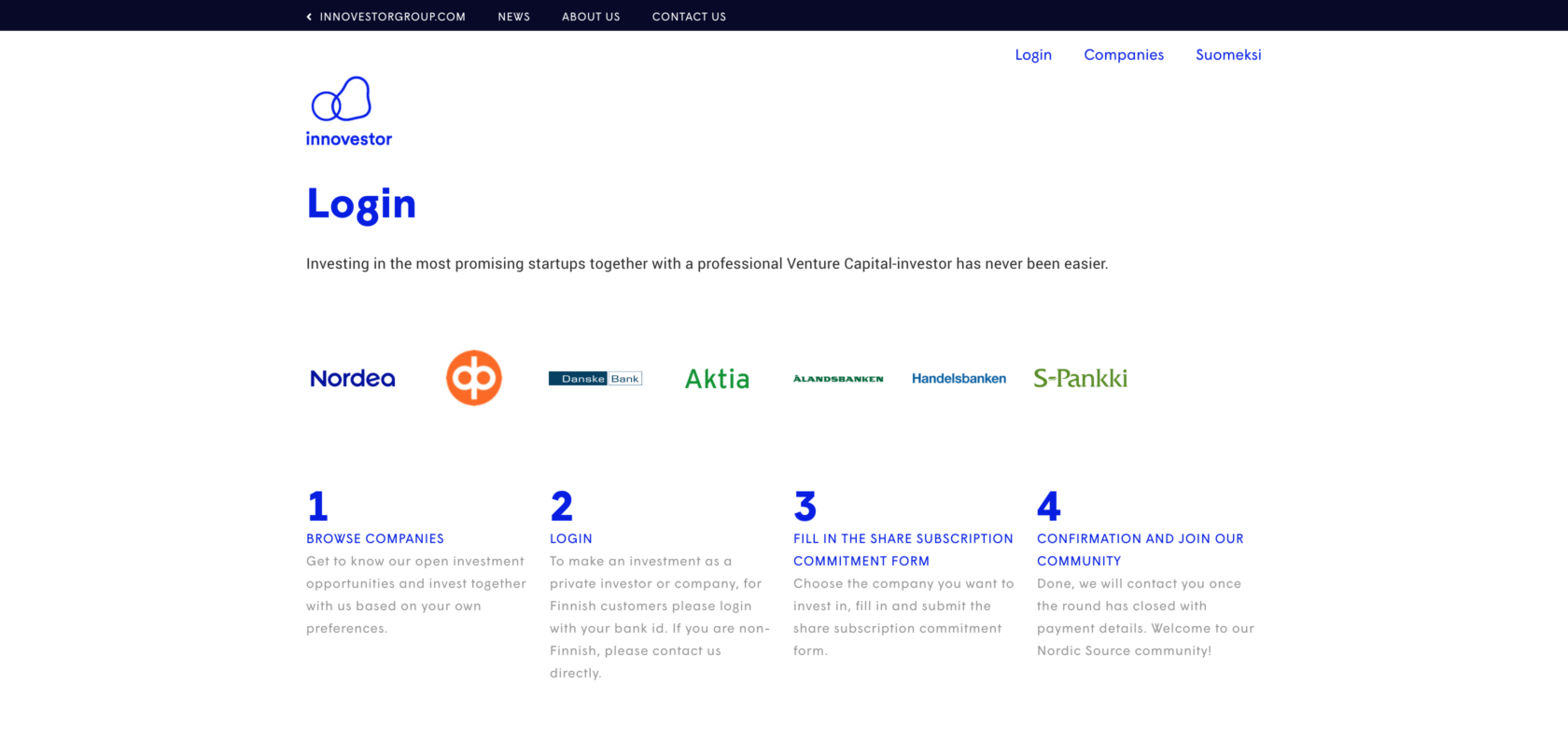 A crucial result of the elimination of Salesforce as an external factor in the Innovestor user journey was the ultimate elimination of the cost of over 2,113 Salesforce community licenses, which Innovestor had previously had to pay for.
Salesforce community licenses eliminated

2,113
It took us two months to create the first user version, at which point we implemented the application logger in order to allow Innovestor to review and validate all data points related to user action. This allows Innovestor to observe and diagnose issues that users may encounter during their journey, fixing them in real time to preclude similar problems from arriving for future users. This approach was paired with the deployment of a continuous integration/continuous development system alongside staging, pre-production, and production environments. Ultimately, this strategy allows for the performance of local development, as opposed to cloud-based development which was required by the use of Salesforce.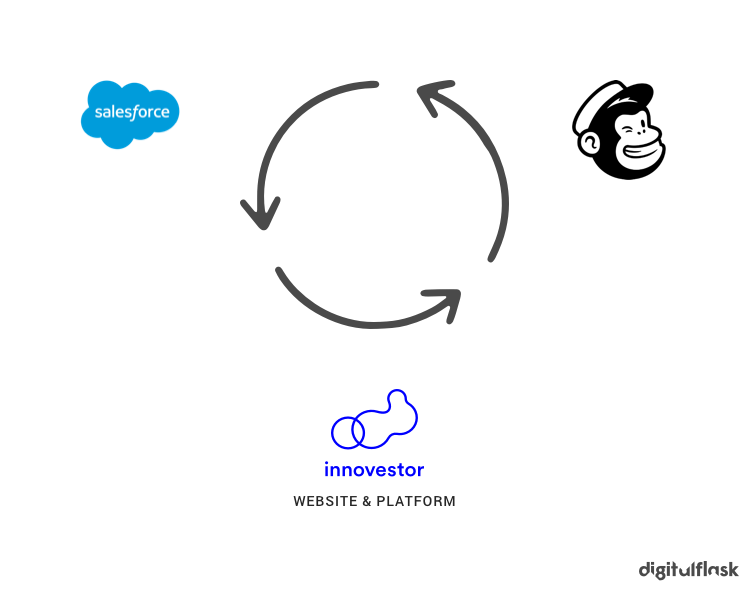 To address the challenge of lead generation information and updates, we developed a three-pronged integration solution, featuring (1) website and platform, (2) Mailchimp, and (3) Salesforce. This three-way integration allowed the automation of data-sync between all respective systems. The system was then implemented for all of Innovestor's systems for the generation of potential leads, including newsletters, contact forms, and downloaded investor materials.
Results and Use Cases
With the new system, a variety of use cases illustrate the efficacy of our solutions. A visitor might subscribe to a newsletter using Mailchimp. With that action, a lead record is created in the Salesforce CRM. Similarly, a visitor might download investor material, and a similar lead record is also created in the Salesforce CRM. At the same time, that visitor receives an email, we record a 'sales activity' (in this case the sent email) in the Salesforce CRM, the users interest is marked, and the visitor is added to a Mailchimp mailing list, provided that they opted in.
Parallel processes are followed according to this new protocol if a lead invests money over the Innovestor platform: the lead's record will be updated to reflect that action, and the lead will be converted from a 'lead' to a 'customer.' In the same vein, if a lead unsubscribes from the Mailchimp list, the record is also updated to reflect that action. The upshot of this system-wide renovation is that marketing and sales are all kept completely up-to-date, and in sync with every other system component.
It is a pleasure working with Digital Flask! Quality, speed, attention to detail and vision all rolled into one. Not only are they extremely gifted developers but also have strong business understanding, and without fail always manages to turn our wishes and ideas into well-executed actions. Definitely the full developer package!
The benefits of our single page application solution also yield several advantages. Interactivity and performance are positively impacted, since Javascript no longer needs roundtrips to a server, and most static resources are cached immediately after being loaded once.
Application state tracking and management are improved, since cookies are no longer required, and local and session storage is no longer necessary to remember the state between pages.
Scalability is also improved, because locating processing in the browser makes user volume much less relevant.
Salesforce limitations are obviated.
An enhanced developer experience and a faster development cycle results in faster time-to-market.
Over the past two years, Digital Flask has proved an invaluable and very dynamic partner in different development projects. They have not only an excellent grasp of the technical aspects but also on the business side of things. Them being able to design and create robust user-interface solutions is also a precious asset in the development of our online services. Digital Flask has the technical know-how, is efficient, quick to react and all-in-all a great partner to work with. Cannot recommend them enough.
We found Innovestor with a solid model and workable resources, but considerable waste in the form of unnecessary resources being expended and redundant processes.
Using our experience with clients in similar fields, we hand-tailored a solution for Innovestor that improves user experiences, simplifies customer journeys, and makes future updates, fixes, and development considerably simpler.